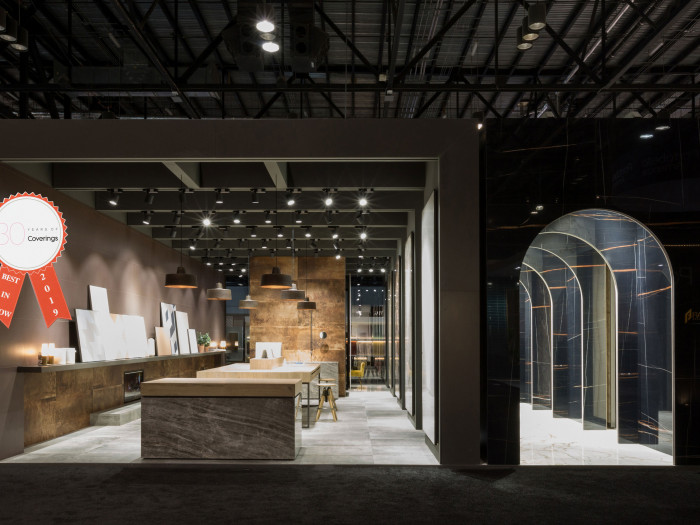 Location: ORLANDO, Usa 108 sqm 2019
Client: GranitiFiandre SPA
Description
During Coverings 2019, Area-17 received the "Best Inspirational Design" award at the largest international tile & stone show in North America for the Fiandre USA booth design that was a tribute to the ancient world of Italian artists' vintage workshops, where intricate ceramic artistry took place for decades. The "Ceramic Atelier" exhibition space envisioned the concept of an inspirational workshop, like a gallery-atelier, where mixed sizes, collections, and ideas contributed to new trends and innovative projects.
The stand ideally consisted of two parts. The first part was the "public" gallery designed with a dramatic portico consisting of ten large paneled arches of Sahara Noir on one side and Calacatta Macchia Vecchia on the other side. The combination of the marbles' veins with light and warm tones of their material created a subtle playfulness with light and shadow that accentuated more with contrasts of matte or polished finishes. The second part recreated an intimate and inspirational private artist studio furnished with wide working tables and mobile industrial-style drawers.
Area-17 Architecture & Interiors was also responsible for designing other stands at Coverings 2019 for the following brands: Iris Ceramica, Stonepeak, and Mediterranea.