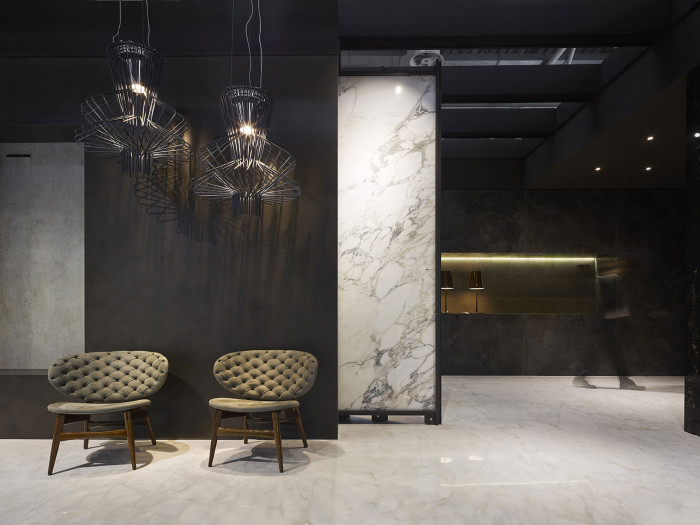 Location: BOLOGNA, Italy 300 sqm 2016
Client: Iris Ceramica SPA
Description
Iris Ceramica's stand by Area-17 is a relational space, where appreciating the wide range of the group's products and doing business in an environment of relaxed elegance, far from the fair clutter.

The stand is conceived as a business lounge. Drawing inspiration from the idea of mood boards, coordinated design features show the interplay between ceramic and other materials, shapes, colors, and textures.
A majestic, white solid volume separates the outside from the inside, while dramatic cuts in the shell focus the attention on the products and invite visitors to enter. Inside, wings in the shades of pewter, copper, and charcoal create a rich background to the staged settings, which alternate to lounge and business areas. The sophisticated combinations of furniture and ceramic panels provide a deeply inspiring display.
Iconic pieces by Baxter, Flos, Foscarini, and Kartell live side by side with bespoke items designed by Area-17 specifically for the fair, using materials from the brand's collections. Tables, cabinets, bookcases, but also lamps and seating effectively show the versatility of ceramic when interpreted by a creative mind.
The stand displays products by the three brands of the group: Iris Ceramica, FMG Fabbrica Marmi e Graniti, and Eiffel Gres. The exclusive collection by Iris Ceramica for Diesel Living dresses the main entrance.