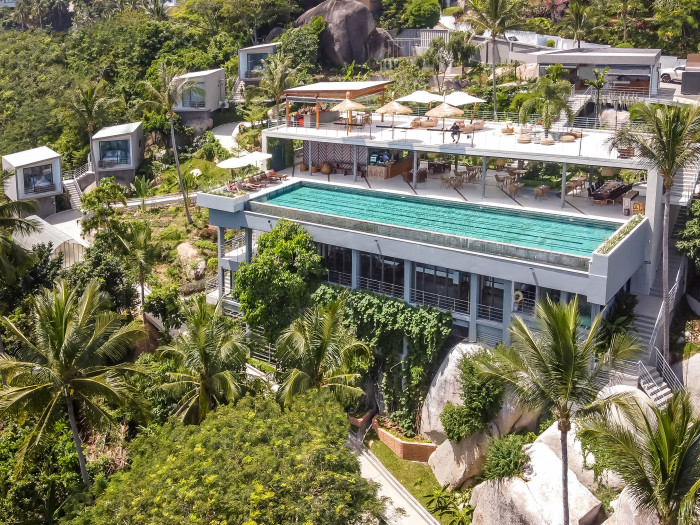 Location: KOH SAMUI, Thailand 6'500 sqm 2019
Client: Kapuhala Resorts
Description
Kapuhala Koh Samui Tropical Farm and Training Retreat is a new boutique resort on Samui Island, featuring 5 luxury tent residences and 4 independent Seaview "farmhouses", all with a breathtaking view of Chaweng Noi, one of the island's most beautiful beach. The possibility of re-establishing a strong connection between human and nature was the main idea that guided the Area-17 Architecture & Interiors project, whose approach was focused on annulling the perception of the detachment between the serene outdoor environment and the comfort of indoor spaces.
The eco-conscious design of the semi-permanent luxury tents means they can easily be deconstructed and relocated, with a minimal residual ecological damage to the natural environment.  From the tents, suspended terraces reach out as if they want to touch the sea, a consistent presence throughout the whole complex. In fact, entering the reception through an inconspicuous wooden side door, one is captivated by the stunning views of the ocean framed by the lush tropical vegetation in the surroundings.
The horizon line inspired the minimalist architecture of the main building, interrupted exclusively by a palm tree that pierces the panoramic terrace rooftop where one can find the first exclusively plant-based gourmet restaurant on Koh Samui. The refined cuisine features an entire menu that includes only fresh picked seasonal ingredients that are either grown on-site at Kapuhala's natural farm and microgreens aquaponic greenhouse, or sourced from neighboring local farms.
In addition to a state-of-the-art gym, guests can exercise or relax in the 25 meters infinity pool. The architecture here also binds materialistically to the surrounding environment, encouraging a shift from the constructed human world, to a dimension where the inner self finally dissolves into nature without compromise.