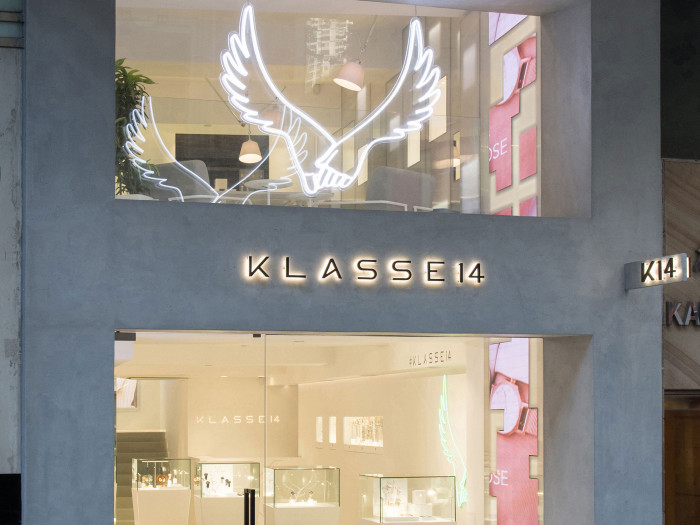 Location: HONG KONG, China 80 sqm 2018
Client: Klasse14
Description
Klasse 14 has officially landed in Hong Kong with its one-of-a-kind flagship store designed by Area-17 Architecture & Interiors. Drawing inspiration from a rarefied, ideal museum, the retail space recreates the "ordinarily unique" experience that is the brand's core value.

Enhancing time is the concept's guiding idea. It materializes in a minimalistic environment where the product-exhibit is displayed in a series of elements distributed diagonally in a narrow and deep room. Showcases are designed in imitation of the watches' flared dial, with cuts of light on the edges. Two linear walls house wall-mounted showcases and touch-screen devices enabling customers to interact with brand's digital contents and share their experience on social media.
Going up visitors' attention is caught by split monitor tiles, on which photos of the advertising campaign are looped, making a coloured waterfall that descends from the first floor to the ground floor. The first floor is an experiential space, where the brand invites its customers to a small lounge and to a special area devoted to customized packaging. The two levels are connected by a pivotal element: a bright wall in opal polycarbonate on which square tiles of video, lights, mirrors and displays are mixed.
The visionary and essential design of Klasse 14 products inspired the research of materials, colours, shapes, and lights. The interiors' palette - changing from white to shadows of grey - is the same of the external façade, with its rough concrete finishing on which the backlit black type fonts of the logo stand out. The contrast between inside and outside is strikingly visible from the street: a heavy materic shell cut by two large windows opening into a neat, essential, pure white interior.