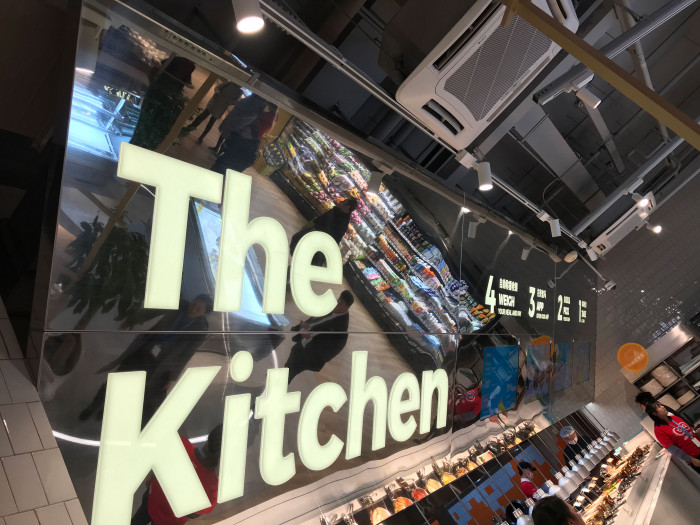 Location: SHANGHAI, China 400 sqm 2019
Client: Alibaba Group
Description
In the process of defining an innovative approach to local shopping, Alibaba Group asked Area-17 to design a new concept for convenience stores located in business districts and office areas. Named 盒马 F2 - Fast & Freshade, it sees the first tangible application in a 400 sqm store in Shanghai highly specialized to meet the needs of a clear-cut target of young business-people.

Fast & Freshade – where freshade is a neologism standing for "freshly made" precisely identifies the range of products and services a client will find in the store: freshly cooked ready meals as well as cooked-to-order dishes to eating inside or taking away, and an essential yet thoughtful selection of complimentary products. The wide F&B offerings matches a variety of seating solutions for different times of a daily routine: from breakfast to dinner, from fast and together to intimate and relaxed.
Speed and efficiency descend from the hectic rhythm of working hours and blend into a layout that foster the movement around three central islands towards the focal points where food is prepared. Facial recognition self-checkout stations are installed around the store to guarantee a smooth flow of customers. Bright accents and light inserts live up minimalistic and natural flair of wood and polished concrete. The wide reflecting slab made of mirror polished stainless steel hanging over the kitchen counter reflect the food preparation, which becomes visible from each corner of the store.
Area-17 oversaw also 盒马 F2 corporate branding and its applications, from store sign to packaging, from environmental graphic to intersections between visual identity and interior design. The result is a venue where the visual identities of the brand and of the spaces merge together to return a strong and consistent final look.